International environment, UN Headquarters, Austria Center (Vienna's largest conference and exhibition space) and numerous international companies
Excellent connection to the historic city centre and airport
In-house restaurant and supermarket
In-house hotel with serviced apartments
Bilingual kindergarten, elementary and high schools in the immediate vicinity, including Vienna International School and Danube International School
Underground station adjacent to the building
Numerous doctors in close proximity
Donauzentrum (Vienna's largest shopping mall) can be reached in a few minutes
D-CITY, the modern heart of Vienna
DANUBEFLATS is situated in the heart of Vienna's D-City, directly on the Neue Donau and opposite the historic city centre.
Benefits of D-City include its convenient position, an international environment and extensive recreational facilities in the immediate vicinity. Neighboring DANUBEFLATS are the Vienna International Center, Austria Center, DC Tower, and numerous international companies.
LIMITLESS CONNECTIONS.
For a life spent on the go, it's better to have options that move you.
A stone's throw from Vienna International Airport. Underground connections on the doorstep to the historic centre and rest of the city. Ease of travel to top skiing and holiday regions.
And for everyday life you'll find shops, local suppliers, attractive restaurants and numerous doctors and other services in the immediate vicinity.
That's how DANUBEFLATS keep you connected.
LEISURE AT ITS FINEST.
Nothing is more valuable than your free time – and DANUBEFLATS offers you a wealth of opportunities to spend it well.
Inside the residential building itself, as well as in the surrounding open spaces and the historic city centre, you will find plenty to entertain and explore.
Whether you chose to relax in nature, experience a rich cultural life, or enjoy the plethora of restaurants, shops and cafés, you'll find it all right on your doorstep.
Wonderful nature reserves and recreational areas on the doorstep: Danube, Donaupark , Donauinsel and the Alte Donau are all within walking distance
Direct access to the Danube free swimming areas with changing rooms
Ideal for sport, leisure and relaxation activities
Vienna City centre and the Prater Park are just moments away
Boat rental on the "Kaiserwasser" lake
Prime cycling routes from the doorstep
Excellent restaurants, in-house and in the immediate area, for example: the DC Tower with high-quality restaurant and bar, Copa Beach directly on the Neue Donau with a large gastronomic offer, the Bootshaus and the Strandcafé restaurants on the Alte Donau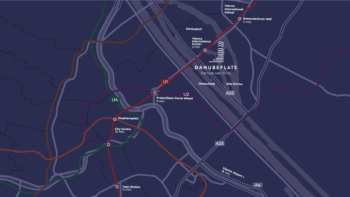 SURROUNDED BY NATURE AND IN THE HEART OF THE CITY
Car
Underground
City Centre
12 Min.
10 Min. (U1)
Prater
5 Min.
7 Min. (U1)
Airport
18 Min.
35 Min. (U1+S7)
Central train station
15 Min.
20 Min. (U1)
Donauzentrum (shopping mall)
5 Min.
7 Min. (U1)
Vienna International Center
2 Min.
2 Min. (U1)